Pamela Horner­-Pfau
BS in Exercise Science and Sport Management
Pamela Horner began her agility journey under the instruction of NADAC judge and trainer, Lark Pollari, in January of 2012. In addition to the many agility workshops and seminars Pamela has attended over the years, she continues her agility education through private coaching with repeat agility champion and world team member, Sarah Baker. Other dog sports Pamela competes in include Barn Hunt, Dock Diving, UpDog Challenge, Fast CAT, and Toss and Fetch League. With her strong coaching background and experience at the collegiate level, Pamela is excited to use these skills and continue her education in the world of dog sports.
Meet the Dogs!
Manda
Manda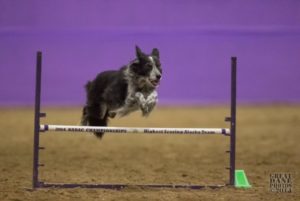 Manda, a rescue Border Collie, was Pamela's first agility teammate. They started agility when Manda was 4 years old. Manda earned her Championship Agility title in NADAC (NATCH) in January of 2017 and went on to earn NATCH2 in 2018. Manda retired in 2019 but not before earning many awards in agility, barn hunt, and UpDog.
Padme
Padme
Padme is also a rescue. She belongs to Pamela's nephew, Caleb. Padme has been out of training for a while but was a very fun agility partner.
Niners
Niners

Niners is pretty well know in the world of dog sports. She was Lark Pollari's last rescue and went to live with Pamela in 2014 after the beloved Lark lost her battle with cancer. Niners biggest fan is still Wayne Pollari amongst many others. Niners dabbles in agility for fun but excels in dock diving and disc. Niners competed in the 2016 NADD National Championships in Orlando Florida and placed #7 in the nation in the Master Lap division. In 2019 Niners returned to Florida earning Championship honors in the Lap Air Retrieve Junior division and finishing #6 in the nation in the Veteran Junior DJ division. Her personal best jump is 17 feet 3 inches. Niners has earned many titles and awards in agility, UPDog, and dock diving. She will play barn hunt in her retirement years.
Shasta
Shasta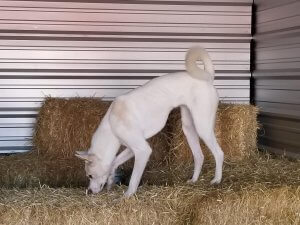 Shasta is a rescue from Rez Dog Rescue of Montana. She was born in May of 2015. She competes in agility, lure coursing, toss and fetch, and dock diving but also enjoys paddle boarding, skijoring, and nose work. She earned a bundle of titles in 2017-2018 in dock diving, Canine Good Citizen, tricks, agility, and barn hunt. In 2019, Shasta earned her first championship title, NATCH1, at 4 years old. She now has numerous championship titles in NADAC agility and competes at the highest level in AKC and UKI. In April of 2022 Shasta won the 20s Pentathlon at the Rocky Mountain Classic UKI agility event.
Rickey